Our Team
Skilled Torrance Plumbers & a Friendly Support Staff
Meet our team! Get to know a little bit about each of our employees so you're familiar with them through the process and get a sense of comfort knowing who is coming to your home to do the work for you.
About Our Staff
Our office truly encompasses a "home" feel. We view each of our employees as an extended member of our family. At Tony's Plumbing Inc., we encourage our employees to expand their knowledge constantly in order to provide the best plumbing services possible. Each year we give our employees the opportunity to attend various plumbing expos, workshops, and seminars. Having opportunities as such is beneficial to not only our team, but also the company because it ensures that our technicians are up to date on new codes, procedures, and technology which is important in ensuring you and your family's safety. Tony's Plumbing Inc. strives to maintain great customer satisfaction and through the help of our hardworking and dedicated staff, we are able to achieve that goal.
​​​​​​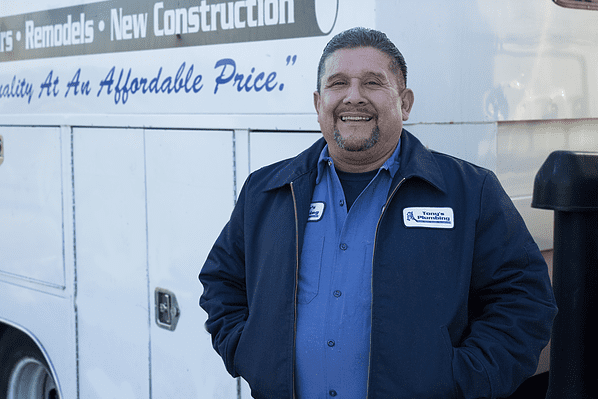 Mark
Technician
Mark grew up in San Pedro and has lived there for 53 years. He's been with Tony's Plumbing Inc. for twenty years! Mark graduated from Harbor College and is also certified in pipe-fitting, coppersmith, trac pipe, and polyethylene. He's always smiling and making the people around him laugh. Mark loves his job because he gets the chance to meet new people every day. Being the family man he is, when he's not working he's relaxing with his son, friends, and family.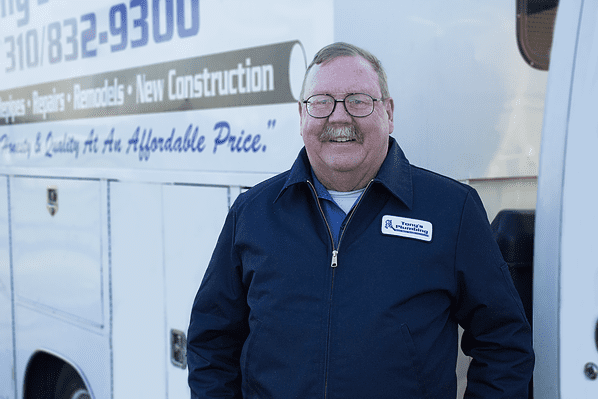 Paul V.
Technician
Paul has lived in San Pedro for 42 years. He studied at Cal State University Long Beach and earned his Bachelor of Science in Criminal Justice. Paul's favorite part of his job is making sure the customers feel confident in his work and educating them on the process to better assist them in the future. Paul is also fluent in Finnish and speaks Spanish. In his free time, Paul enjoys playing golf and seeing his family.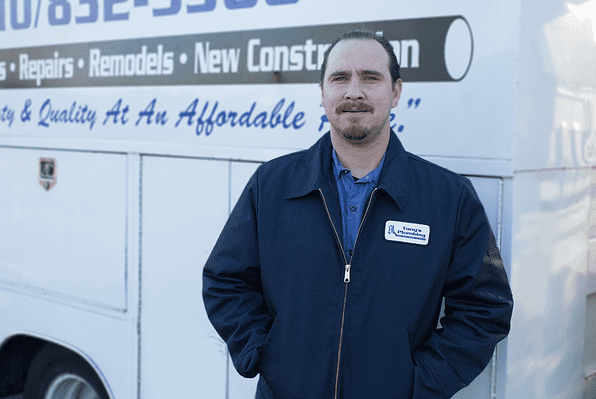 Johnny
Technician
Johnny grew up in San Pedro and has worked for Tony's Plumbing for 8 years! After graduating high school he went on the study at Harbor for occupational plumbing code. When Johnny isn't working he is most likely playing basketball or staying active in some way. He used to be in gymnastics! He loves the work he does because he gets to see something that starts as an empty lot, conclude as a brand new custom home. He loves to learn new things whether it's new construction or service and repair, the plumbing industry is constantly changing and he loves being able to consistently learn new techniques.

Edwin
Technician
Edwin moved to Harbor City about five years ago. Edwin is a fully trained plumber and continues to consistently prove how much he cares about each plumbing job he's come across. When Edwin isn't at work he is usually busy in the garage tuning his cars and trucks. He loves plumbing because he gets the chance to solve problems and find solutions.

Jimmy
Technician
Jimmy has been in San Pedro for 10 years. He studied General Ed at Santa Monica City College and then went on to study Machine Operations & Tooling. When he's not working he loves to watch sports and cook. Cooking is his favorite thing to do, especially for his family. Jimmy's favorite part of his job is the groundwork. He also loves practicing safety procedures and leading by example. He is bilingual, speaking English and Spanish. The variation of projects and problem-solving keeps him motivated at work. Jimmy is a grandfather of six and a great-grandfather of one!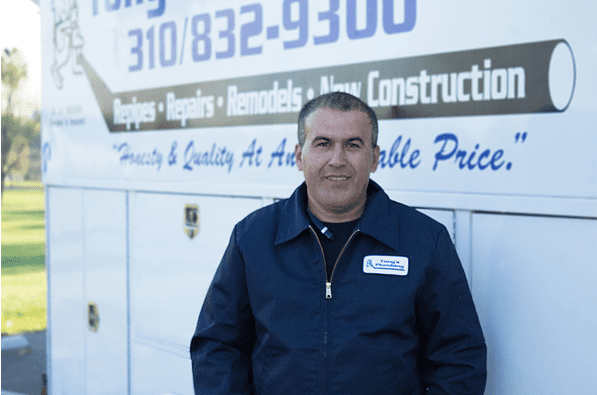 Carlos
Technician
Carlos has lived in Harbor City for 15 years. He loves his job because he gets the opportunity to work for a family owned and operated business that creates a good work environment for employees. He loves working on remodels and new construction. Carlos is always looking for new ways to improve his plumbing techniques. When he's not working he's usually spending time working on his cars or relaxing with family. Carlos speaks Spanish and English.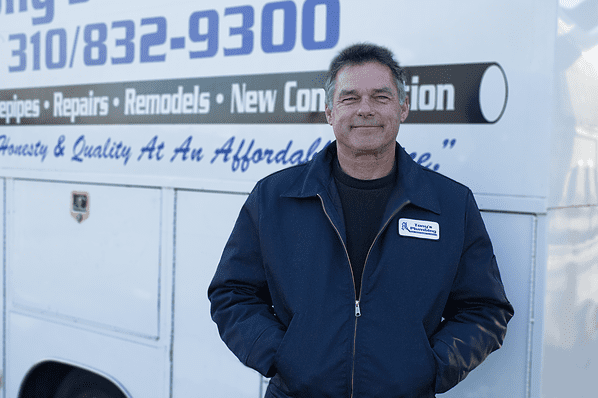 Kevin
Technician
Kevin has lived in Torrance for 25 years! He loves working in new construction and remodels. He is motivated to always have fresh ideas for each job, and always loves to see each job progress. He is a jokester so if you have Kevin around, you'll probably get a laugh in here and there! When Kevin isn't working he is usually spending time with friends and family, relaxing, and working on his house.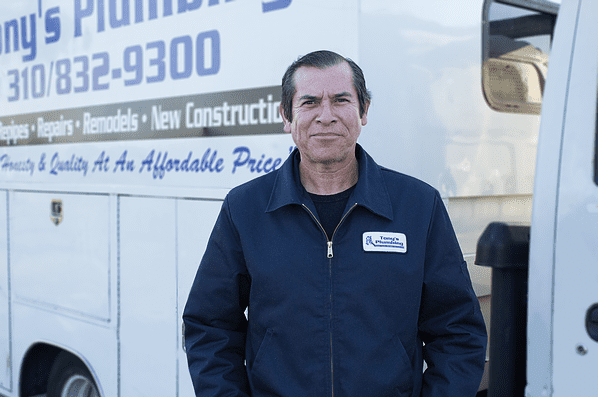 Juan
Technician
Juan grew up in Santa Monica. He loves plumbing because he gets the opportunity to solve new problems every day. When Juan isn't on the job he's normally fishing with his family. He speaks Spanish and English. Juan loves learning new things about plumbing and really takes an interest in new training.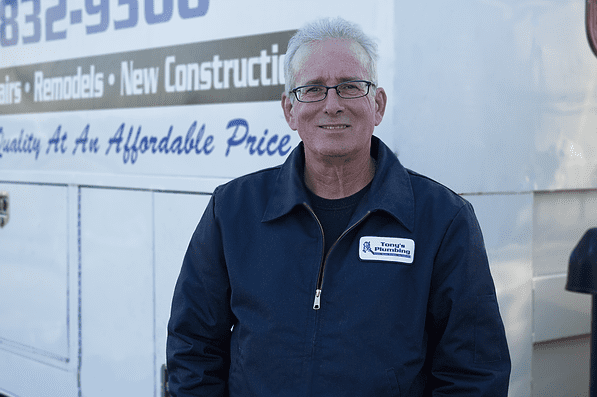 Paul S.
Technician
Paul grew up in Anaheim and has lived in San Pedro for 10 years. He served five years as a U.S. Navy Seabee. He also studied Business, Framing, Drywall, Tile, Concrete, and studied five years of installing and servicing HVAC. When Paul isn't working he is most likely kayaking or playing bocce ball. He loves the work he does because of the variety. The process of always starting and finishing a service problem and being involved in diagnosing problems and finding solutions while working fast and efficiently keeps him motivated. Paul is improving his Spanish.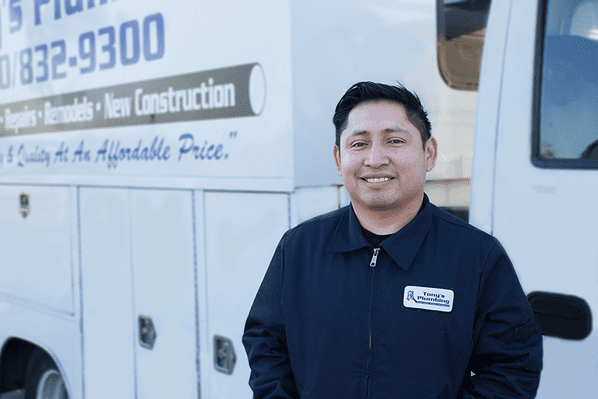 Wilson
Technician
Wilson has lived in Los Angeles for 10 years. He loves his job because every job or project is like a different puzzle. You never get the same exact problem, they are always unique. When Wilson isn't working he is usually hanging out with his family or fishing. Wilson speaks Spanish and English.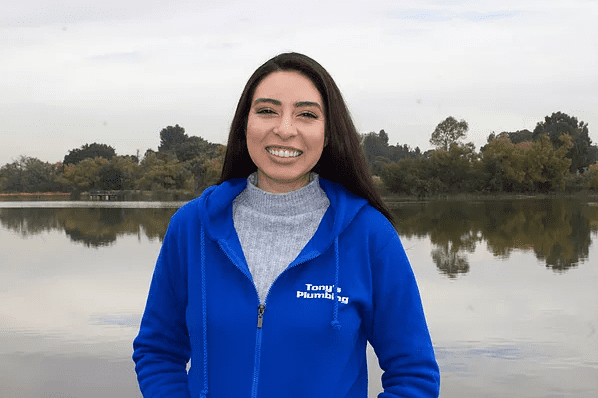 Angie
Dispatcher
Angie Gamez is from Hawthorne. She studies at Harbor College and just recently purchased her first house. When she's not working, Angie likes to spend her time studying or catching up on her favorite T.V. shows. Angie says she loves work because she loves the atmosphere of working with a family-owned business. She loves that she is able to connect and interact with customers and help them, even if it's in the smallest way. Angie is also fluent in English and Spanish. She stays motivated at work because she always puts herself in the customer's shoes and knows how important one's home is to them. Angie has traveled to over five different countries and her favorite so far is Spain. She also loves singing and sings for weddings and open mic nights.